Attendance
School Attendance & Punctuality
At Littlemoor, we believe excellent attendance and punctuality are vital in helping our children achieve their best. Children should be at school, on time and ready to learn, every day the school is open, unless the reason for absence is unavoidable. All research shows that students who attend well achieve well.
We expect the following from parents with regards to attendance and punctuality:
To ensure all children attend the school regularly, on time and to be aware of their legal responsibilities
To ensure they contact the school every day their child is unable to attend, using the school's telephone number 01302 701353
To ensure that their child is appropriately prepared for the day
To contact the school in confidence whenever they have a problem concerning attendance or punctuality
To be fully aware of the Y1 and Y2 test period and to support attendance during these periods.
Not to arrange a holiday in term time
To respond to the appropriate person regarding letters of concern immediately
To make every effort to arrange dental and medical appointments out of the school day
That telephone contact numbers are available and if changed, the school is informed immediately.
Parents can expect the following from Littlemoor:
Regular, efficient and accurate recording of attendance
Support from Littlemoor to improve attendance and deal with any underlying issues.
Early contact from the school when a child fails to attend the school without reason; this will usually involve a home visit on the 1st or 2nd day of absence
A prompt response to problems notified to us
The celebration and rewarding of good and improving attendance through competitions, certificates, prizes and events
Support when there is a problem of long term illness
Involvement with Doncaster Children's' Services when appropriate
Follow up procedures from the school's attendance team.
The government has laid down guidelines which they expect children in primary schools to achieve in terms of attendance. Although we strive for every child to have 100% attendance, government guidelines state that all children should achieve a minimum of 96.1% attendance each academic year.
We do acknowledge that there are however certain instances where this may not be possible due to illness etc. Whilst some absences may be unavoidable, we would ask that you support us in ensuring your child's attendance meets both the school and the government's expectations. Any problems with regular attendance are best sorted out by school with the students/parents at an early stage.
We will closely monitor your child's attendance and alert you if we feel there is an issue. Where attendance is an issue, school undertakes a wide range of measures to support children and families. Where we fail to see an improvement in attendance, it may be necessary to make a referral to an appropriate external agency to ensure the child receives the support required to bring about an improvement.
Throughout the year we hold school attendance challenges. Each child with 100% attendance over a half-term will receive a certificate and small prize.
Attendance & Admissions Policies
Please see the statutory information page for the policies or visit the DMBC website.
Holidays during Term Time
As a parent/carer you are strongly urged to avoid taking your child out of school during term time. Please note the following before applying for leave of absence from school:
From September 2013 the Department of Education announced an amendment to the Education (Pupil Registration) (England) Regulations 2006, removing the Head Teacher's ability to authorise leave of absence for the purpose of a family holiday unless there are exceptional circumstances.
If you believe that there are exceptional circumstances that warrant the need to take your child out of school during term time, please complete the 'Leave of Absence' form which is available from the school office. Return your completed form to school, providing at least 10 school days notice, where circumstances allow. A letter will be sent to parent/carers in response to the application for leave, to confirm the school's decision.
Our stance at Littlemoor is that requests for holidays in term time will NOT be authorised. If you take your child on holiday during term time, without the authorisation of the Head Teacher, the Head will make a request to the local authority to issue a Fixed Penalty Notice. If a Fixed Penalty Notice is issued, the penalty is £60 per child, per parent/carer when the payment is made within 21 days, after 28 days it will increase to £120. Failure to pay within 28 days will result in a summons to appear before the Magistrates Court on the grounds that the parent/carer has failed to secure their child's regular attendance at school. Please note that a separate Fixed Penalty Notice will be issued to each parent for each child and all monies are payable to the Local Authority.
Meet Sam & Sammie
Sam & Sammie are not only brother and sister, but they are best friends too. They go to the same school and have the same friends. Would you like to meet Sam, Sammie & friends?
Take a look at Sam and Sammie's website all about attendance at:- SamandSammie.com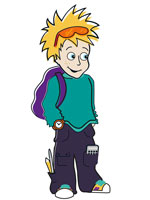 About Sam and Sammie
Sam and Sammie are our attendance champions. They promote the importance of school attendance to children, parents and schools. The Sam and Sammie resources promote the 6 building blocks in the wall of success – Attendance, Punctuality, Good Habits, talk to the school, talk to each other and ask for help.
The Sam and Sammie program is designed to engage children and their families in recognising the benefits of attending school regularly. Sam and Sammie would like all schools to adopt the Sam and Sammie program and see what a fantastic improvement it makes to attendance and punctuality.